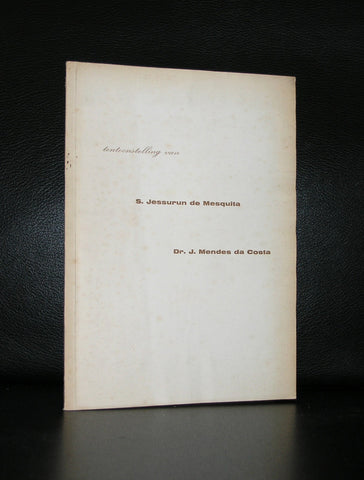 M.C. Escher # S. JESSURUN DE MESQUITA and Dr.J. MENDES DA COSTA #1946, nm
Artist/ Author: M.C. Escher

Title : S. Jessurun de Mesquita / Dr. J. Mendes da Costa

Pages : 40 pages plus cover

Publisher: Stedelijk Museum, 1946

Text / Language:  dutch

Measurements: 8.4 x 5.8 inches.

Condition: NM

extra information on this item:
This is possibly the earliest text by M.C Escher on his teacher and longtime friend Samuel Jessurun de Mesquita. The Stedelijk Museum organised an exhibition as a tribute to both these ( Jessurun de Mesquita and Mendes da Costa) jewish artists who were killed during WWII. Jessurun de Mesquita was remembered in text by his pupil M.C. Escher. A moving and beautiful text specially written by Escher for this publication. A rare and highly collectable Escher item, because it was published right after the occupation in 1946 when paper was still scarce and edition sizes extremely small. Highest recommendation for this NEAR MINT copy.
---
We Also Recommend