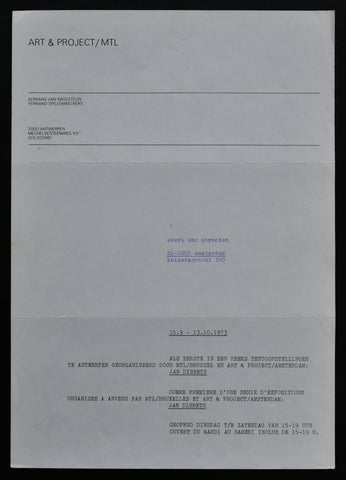 Art & Project / MTL # JAN DIBBETS, invitation # 1973, mint-
Artist/ Author invitation for : Jan Dibbets
Title : Jan Dibbets
Publisher: Art & Project and MTL

pages : 2 pages
Text / Language:  dutch

Measurements: 11.7 x 8.2  inches .
Condition:  mint-
addressed to : Evert van Straaten , the former director of the Kröller Muller museum      
rare 
A short time in the early Seventies Art & Project held some joint exhibitions together with the Belgian MTL gallery. these invitations were a spin off of the bulletin and invitation series from Art & Project. From 1968 until 1989, Art & Project ( Adriaan van Ravesteijn  and Geert van Beijeren ) published their "Bulletin". Together with these bulletins another kind of mail art was  send. The same subscribers to the Bulletin received the invitations for the exhibitions held at Art & Project. These invitations are almost equally important "mail art " documents. 
---
We Also Recommend