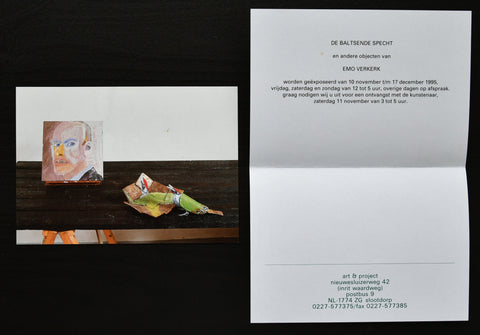 Art & Project # EMO VERKERK # 1995, mint-
Artist/ Author: Emo Verkerk
Title : De Baltsende Specht
invitation card and invitation letter for this exhibition
Publisher: Art & Project, 1995
Text / Language:  dutch

Measurements: 5.8 x 4.2  inches .
Condition:  MINT
From 1968 until 1989, Art & Project ( Adriaan van Ravesteijn  and Geert van Beijeren ) published their "Bulletin" and other mail art publications. The total number of these Bulletins was 156 in a period of  21 years.. After this period they moved to Slootdorp to continue their gallery Art & Project. Many iconic exhibitions have taken place in all these years
These publications and invitations have now become quintessential in the history of Modern Art.
---
We Also Recommend